Nikon AF-S Micro-Nikkor 105mm f/2.8 G review

July 1, 2012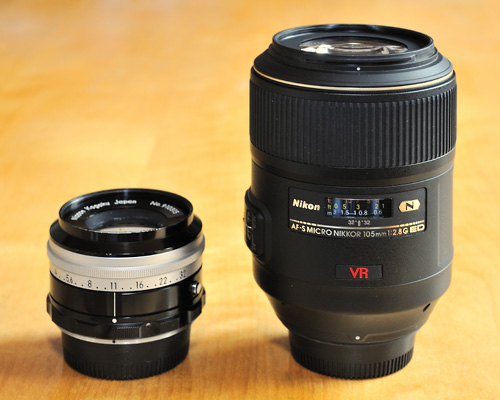 The AF-S 105mm with its great-great-grandfather, the Bellows-Nikkor 105mm f/4.
Lenses seem to grow over the generations!


Size comparison: AF Nikkor 180mm f/2.8 (hood is built-in), AF-S Micro-Nikkor 105mm G with hood, AF Nikkor 80-200mm f/2.8 D with hood.
Of course, you can save space in your bag if you mount the hood reversed, but that requires additional handling if you swap lenses.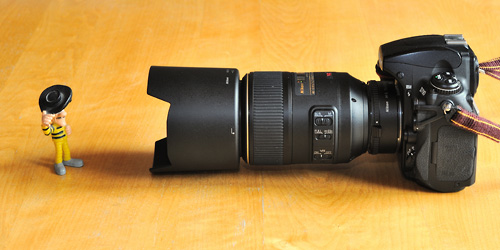 Going closer: in conjunction with the TC-14EII you reach a magnification of 1.5:1. The distance between the front of the lens and the subject remains at 150mm or - as shown here - 75mm with hood.


Going closer: with a 6T close-up lens the max. magnification is about 1.6:1, at that the working distance is 95mm.


Nikon has a long tradition in building Macro lenses with a focal length of 105mm. Beginning in 1970 with the Bellows-Nikkor 105mm f/4 this lens line consists of five lenses. I have tried four of them, each one delivers a great optical performance.

Discussed here is the youngest 105mm Micro-Nikkor, introduced in 2006. It is a lens with an integrated SWM autofocus drive and with a helpful VR (Vibration Reduction). As a 'G'-lens it lacks an aperture ring. Currently Nikon doesn't offer tubes or a bellows unit that works in conjunction with G-lenses. Thus, if you want to go beyond life-size there are only two possibilities: using an AF-I/AF-S TC or using a close-up lens. My TC-14EII is a great addition to this lens, the optical quality of the combination is still fine and the AF works well. The lens works fine with a 6T, too (it is not necessary to reverse the 6T!).

I use this lens mainly for macro applications. But it is also a very good universal lens. If I have to limit weight, I take this lens as the only medium long telephoto lens along with me.



Specifications:
14 elements in 12 groups.
Closest focus is 314mm. Maximum magnification is slightly more than life-size (1.1:1).
The distance between the front of the lens and the subject at closest focus is about 150mm (75mm, if the hood is mounted).
AF by Silent Wave Motor.
Integrated Vibration Reduction (VR).
Weight including hood and rear cap is 830 grams.
Filter size is 62mm (non-rotating).
Separate hood with bayonet mount (HB-38), included in delivery.
Length from the camera's lens mount is about 116mm (191mm including hood).
Diameter of the lens itself is about 83mm (the hood has a diameter of 95mm).
Positives:
Very good build quality.
The length does not change during focussing.
VR works fine.
Optical performance is top notch!
Beautiful bokeh!
Very good in conjunction with the TC-14E.
Drawbacks:
Both are bulky, the lens itself and the hood!
No aperture ring.
Alternatives:
AF Micro-Nikkor 105mm f/2.8 (D):
The predecessor of this lens has a very good reputation, too. But I've never tried it myself.



Micro-Nikkor 105mm f/2.8:
I tried this MF lens on film years ago. I hated it because of its big separate hood. But the optical performance was fine. Some people report a CA issue with this lens in the digital world.



Micro-Nikkor 105mm f/4:
This lens has inherited its optical design from the Bellows-Nikkor. It is a very good, a compact and a lightweight lens. The hood is built-in. If you can live without AF this is your lens!
Sample images:
I took this photograph three years ago, just after I purchased this lens. Today my cat isn't interested in this lens anymore. D700 @ISO 400, F8, 1/125sec.


100% crop of the above image. You can see me photographing...




The AF-S 105mm works fine in conjunction with the TC-14EII! D700 @ISO 800, F8, 1/1000sec.




Cold winter: a big piece of ice is hanging above the river Ems. I captured this image hand-held with the D700 at ISO 800, F5.6, 1/25sec. The VR works fine!




Common lizard. D700 @ISO 400, F8 and 1/100sec.




The AF-S Micro-Nikkor 105mm f/2.8 G works great in infrared light, too. This little beetle was captured handheld with the D300IR at ISO 200, F8 and 1/100sec. But pay attention: this lens has a significant focus shift in IR.