Nikon PC-E Nikkor 24mm f/3.5 review

July 5, 2015

Tilt, shift, close focus - the PC-E 24mm is a very versatile lens.


I love my PC-E 85mm! It is one of my most frequently used lenses. Thus, it was clear for me I will try the PC-E 24mm one day.

I bought a used one in early spring and soon it has become an inherent part of my lens setup.

To cut the story short: The PC-E Nikkor 24mm f/3.5 is the best wideangle lens I have ever had on my Nikon!


Specifications:
13 elements in 10 groups.
Closest focus is 0.21m (0.05m from the front of the lens). Maximum magnification is approx. 1:2.7.
The length doesn't change during focussing.
Allows +/- 11mm of shifting and +/- 8° of tilting.
Weight including caps and hood is 790 grams.
Filter size is 77mm (non-rotating).
Length from the camera's lens mount is about 108mm (125mm including hood).
Diameter is about 97mm.
On newer cameras it behaves like an AI-P lens - no restrictions for exposure control.
Hood: HB-41, included in delivery.
Positives:
Pro-built quality.
Very smooth focussing.
Sharpness and contrast is top notch, even tilted and/or shifted.
Very good IR performance. Moreover the lens only has a very slight focus shift.
Drawbacks:
A bit prone to ghosting, not a great lens for shooting into the sun.
The orientation of the tilt and shift movements against each other is not user-changeable.
Tilting geometry:
In my article Tilting the 85mm PC Nikkor lenses you will find some basic information about tilting which is also true for this lens.

Even the equation "d=f/tanα" is true, but you have to take into account that the PC-E 24mm is a retrofocus design. While "f" is the focal length for the PC-E 85mm, I measured "f" to be 78mm for the 24mm lens:

Often criticised: the very small lock screw for the shift movement (cyan arrow). The Nikon service can replace it with a bigger one. But that restricts compatibility with some camera bodies.

78mm and 85mm are very close, de facto the two lenses have the same tilt geometry. I guess it is the same with the PC-E 45mm. That makes it easier for the photographer when swapping between the different PC-E lenses.


Shifting notes:
On a full format sensor in vertical orientation you should stop shifting at 10mm, better at 9mm:

Both images were captured at F11: on the left shifted 11mm upwards, on the right 9mm

If the lens is heavily shifted it should be stopped down to improve the corner performance. With maximum shift in horizontal orientation the corners are acceptable at F5.6 and good at F11.


Alternatives:
Samyang 24mm f/3.5 T&S:
The Samyang lens has two advantages over the Nikkor: it allows to change the orientation of the shift and tilt movements against each other and it costs only around 900 euros new.
On the other hand, according to some reviews on the Web the optical performance and the build quality of the Samyang lens seems to be a bit worse. In my opinion the biggest disadvantage is the interface. It has no mechanical or electronical coupling elements. That means everything has to be done manually, including the opening and closing of the diaphragm.


(AF) Nikkor 24mm f/2.8 (D):
The 24mm f/2.8 Nikkors are very good, lightweight and cheap lenses. But the PC-E performs clearly better and offers T&S.


Sample images:
In a former steel production plant in Duisburg/Germany. Nikon D300IR plus shifted PC-E 24mm at F8.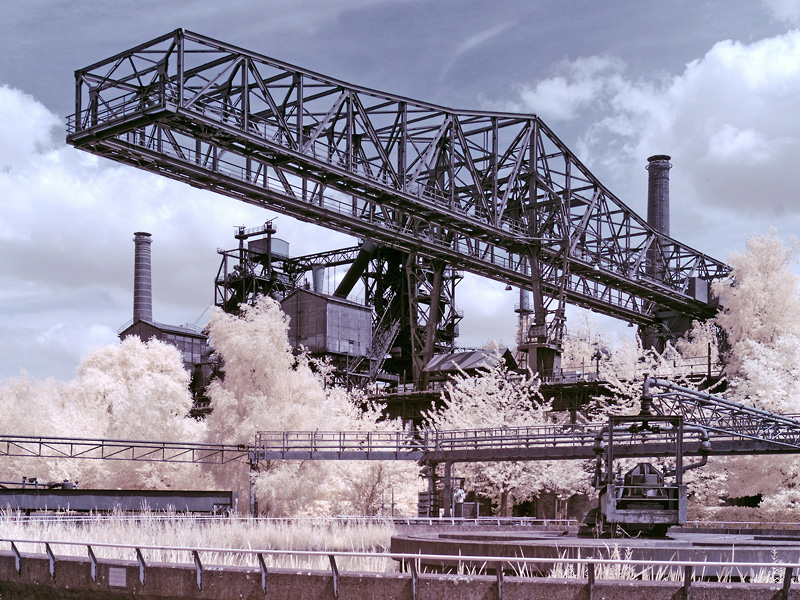 Nikon D300IR plus shifted PC-E 24mm at F11.




Bog area in Minorca. Nikon D700 plus PC-E 24mm at F11, fully tilted.


A spider's home. Nikon D700 plus PC-E 24mm at F11, shifted upwards.


Snail convention. Nikon D700 plus PC-E 24mm at F11.