Nikon AF Nikkor 35mm f/2 D review

December 2, 2012

For many years - when my children were small - my Nikkor 35mm f/2 was the standard lens on my F4. A focal length of 35mm is great for going close to your subject without losing the context and without producing significant wide-angle distortions.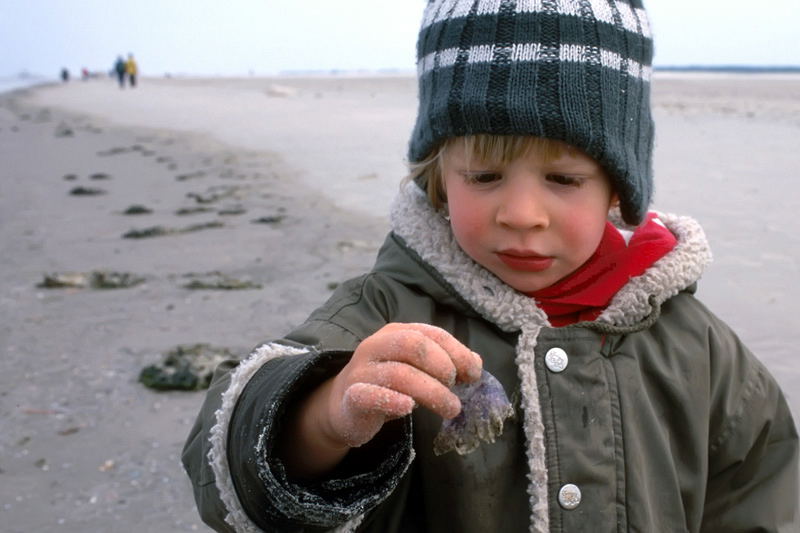 "Daddy, what's this"? My daughter with a small jellyfish on the beach of St. Peter-Ording, Germany in spring 2001. Captured on Fujichrome Sensia with Nikon F4 and Nikkor 35mm f/2.


The 35mm f/2 was introduced in 1962 and instantly became a favourite lens for photo journalists. With only a few slight changes over the years this manual focus lens remained in the Nikon lens lineup until 2005.

In 1989 Nikon anounced the AF 32mm f/2 with only six elements in five groups (the MF lens has eight elements in six groups). It shares the same optical design with its successor, the 'D' version, introduced in 1995 and still in production. Some people reported oil on the aperture blades of the first (non-'D') version. I've never heard of such problems with the 'D' version.

Three months ago I bought a used AF Nikkor 35mm f/2 D for trying. This lens is much smaller than a 17-35mm or a 35-70mm f/2.8 and therefore much more inconspicuous. Besides, it is one f-stop faster than the f/2.8 zooms. Thus, it is a candidate for available light photography in the city, see sample images below.

Of course, I took my good old manual 35mm f/2 out of my cupboard for a little comparison. Overall the optical performance of the two lenses is very similar. But the newer AF-lens is slightly better in every respect.

In terms of build quality I see advantages for the full metal manual focus lens, but the AF-D lens seems to be solid too. Both lenses offer a nice manual focus feeling!


Size comparison: the AF-S 17-35mm f/2.8 with HB-23 hood, the AF 35mm f/2 D with HN-3 hood and the 35mm f/2 (AIS) with HN-3 hood.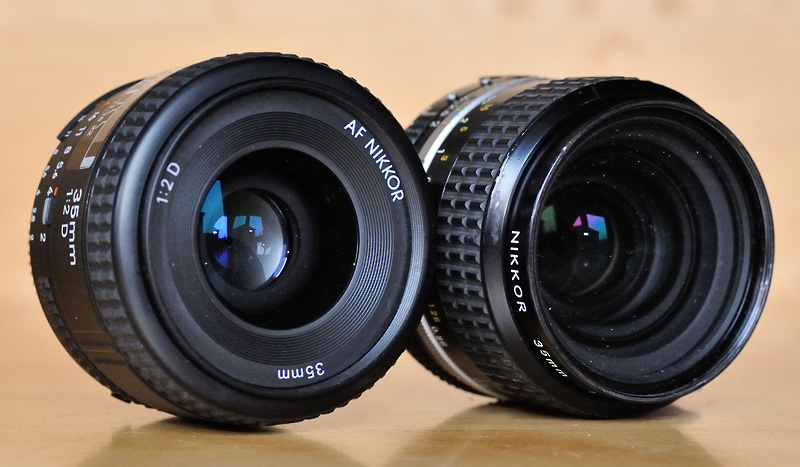 The front element of the AF lens is significantly smaller than the one of the MF lens.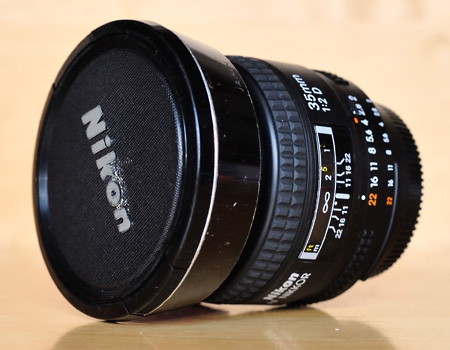 A 72mm front cap fits perfectly into the HN-3 hood!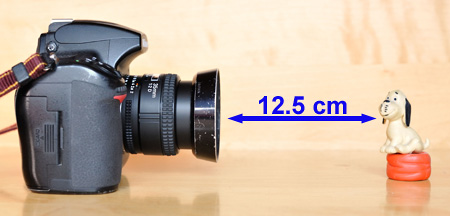 At closest focus (0.25 m) the distance between the front of the hood and the subject is about 12.5 cm and the magnification is about 1:4.4.

Specifications:
6 elements in 5 groups
Closest focus is 0.25m
Screwdriver AF
Weight including back cap, hood and 72mm front cap is only 250g
Filter size is 52mm
Length including hood from the camera's lens mount at infinity is about 63mm (43mm without hood)
Diameter with hood is about 75mm (63mm without hood)
Hood: screw-in type HN-3, not included in delivery
Positives:
Good build quality.
Very compact and lightweight lens.
This lens has an aperture ring, thus it is usable on older camera bodies.
Very good sharpness and contrast in the centre, even wide open. The corners are sharp from F4 on.
Drawbacks:
Ugly bokeh wide open and stopped down as well. Be careful with contrasty backgrounds!
Alternatives:
Nikkor 35mm f/2:
The bokeh is a bit worse, the contrast wide open is a bit lower, it is a bit more prone to flaring and ghosting. Go for the AF lens!



Nikkor 35mm f/1.4:
I tried two samples of the F1.4 at the beginning of the century: soft at F1.4 and at F2 not really better than the f/2 AF! Moreover, the bokeh of the f/1.4 is on the bad side, too.



AF-S Nikkor 35mm f/1.4:
The relatively new AF-S 35mm f/1.4 is much bigger than the old manual focus f/1.4. And after all I've read it seems to have a bokeh problem, too.



Sample images:
Sale in Berlin. If you need reasonably sharp corners you have to stop down to F4 or beyond, see 100% crop below. Captured in September 2012 with the D700 at ISO 6400, F4 and 1/60 sec.




100% crop of the lower left corner of the image above.






A part of the sculpture ensemble "Die Begegnung" by Azade Köker which in turn is a part of the "Menschenlandschaft" (I would translate it to 'human landscape'), a sculpture project in Kreuzberg, Berlin.
Nikon D700 at ISO 800, F2 and 1/25 sec. Even wide open the AF 35mm f/2 D is pretty sharp and contrasty in the centre. But the bokeh is very nervous.






Another ensemble of the "Menschenlandschaft" is "Dove Vai" by Andreas Wegner.
Captured with the D700 at ISO 3200, F4 and 1/50 sec. Even at F4 the bokeh is nervous, see the crop below. For instance, the AF-S 17-35 gets a smoother bokeh when stopping down a bit.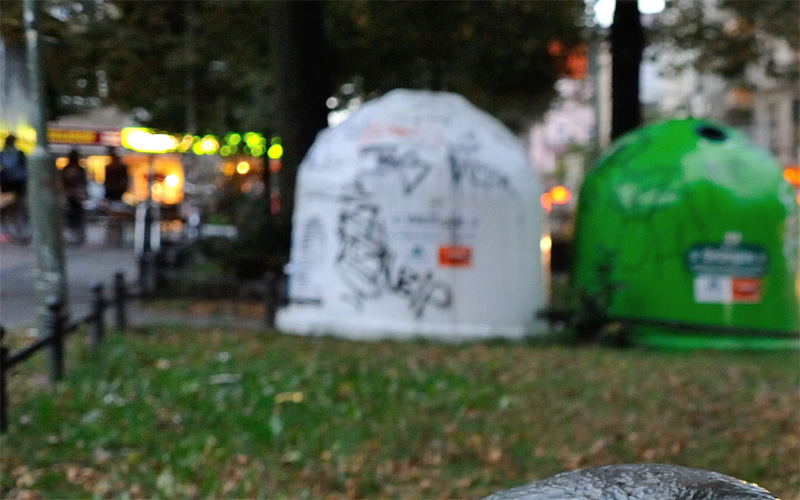 Crop from the upper left corner of the above image at 50%.






Bob is cycling along the avenue... Berlin, September 2012. Nikon D700 at ISO 3200, F4 and 1/50 sec.