ThinkTank Airport Acceleration V2.0 backpack review

August 5, 2012


This ThinkTank backpack is my newest and my largest bag for photo equipment. I bought it in March 2011, just after I purchased my second D700 body.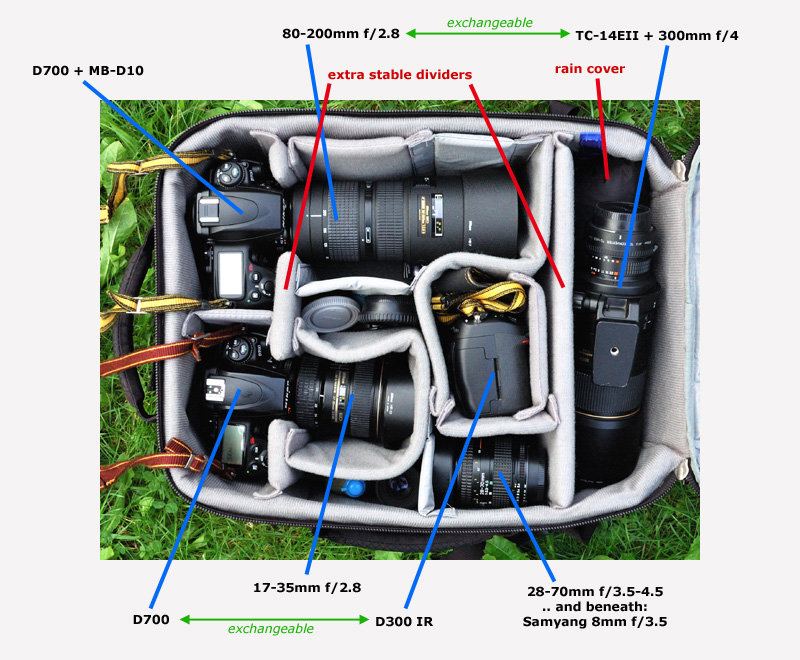 This is an example for dividing and filling the Airport Acceleration, which I often use for longer walks, even in the mountains. The weight of the backpack here is a bit more than 11 kg. Nevertheless it is comfortable to carry for me.
If you shoot on film: you can can replace the D700 bodies by two F2, F3 or F5 bodies. Even two big boys (meaning F4) just fit here.
The possibility to have two cameras with attached lenses in easy access seems to be unique - I didn't find a solution with other manufacturers.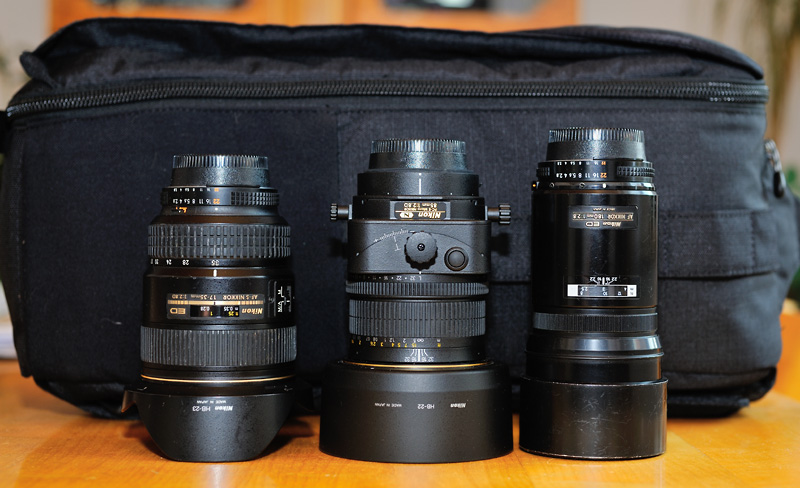 Medium-sized lenses can be stored upright, which saves space! In my lens line such lenses are the 17-35mm (with attached hood), the PC-E 85mm (with attached hood) and the 180mm. The AF-S 105mm Micro is too long, if the hood is attached.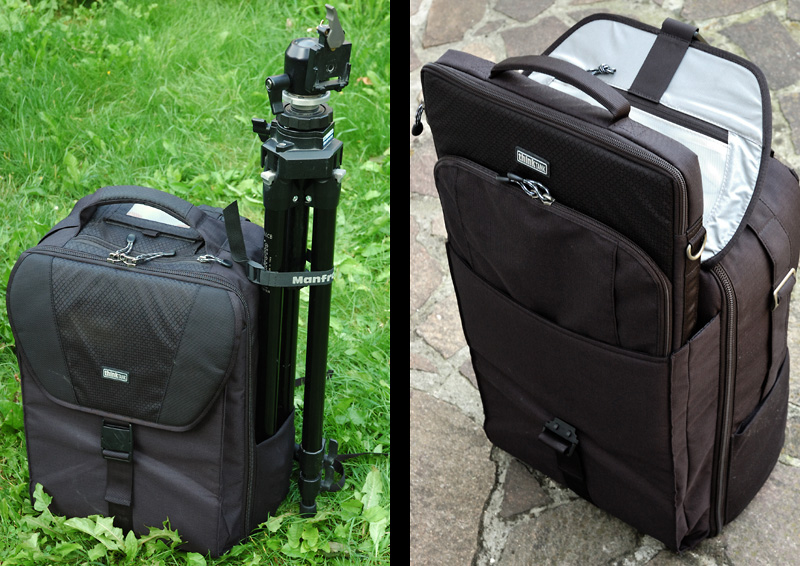 On one side of the backpack you can easily mount a monopod or a tripod. If you want to have the tripod further down you can use the tripod cup which is included in delivery.
Also included in delivery is a very nice laptop bag for the front pocket. It can be used separately, too.


The shoulder straps can be hidden. Then the Airport Accelerator looks like a small suitcase.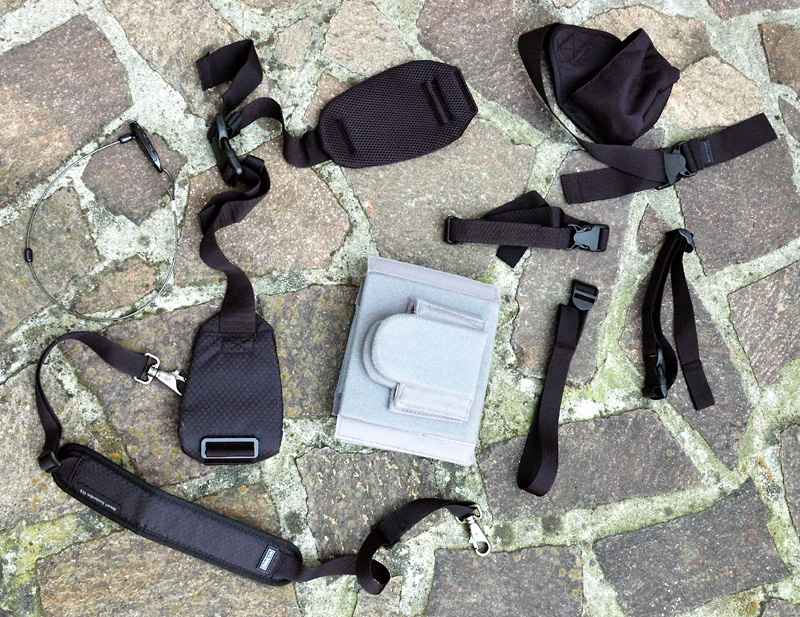 Apart from the rain cover and the laptop case shown above, there are a lot of additional accessories included in delivery: a combination lock intended to secure the laptop bag to the backpack, a shoulder strap for the laptop case, the removable waistbelt, additional dividers (not used for the dividing shown above), the tripod cup and three additional straps for mounting a monopod, tripod or other things.


How many camera bodies do you need?

In analogue times I always had two or more bodies of the same type, mainly because of these reasons: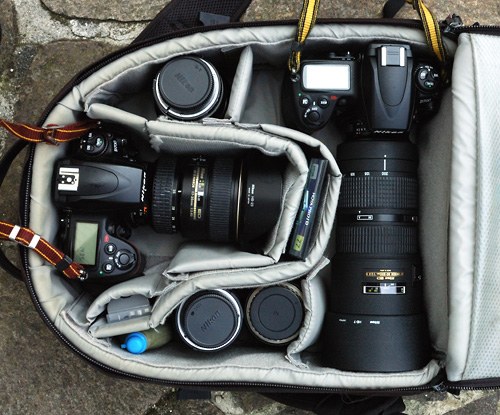 Maybe a standard style photo backpack can be put into service for a two-body-equipment. I've often used my old LowePro Mini Trekker as shown here. But there are two problems: firstly, the access to the lower body with the telephoto lens is not that easy. Secondly, if the lower body is not in the backpack and if you are using more heavy bodies (like the D700), the dividing will collapse within a short while.


A film change takes time and especially in critical environment (wind combined with dust or salt) it poses the risk of getting dust into the system, which can cause scratches on the film.
The number of lens changes can be reduced. That saves time.
It is possible to work with different types of film simultaneously.
Digital photography is relatively new for me - I started in 2004 with two D70 bodies. After a D200 single body phase in between I am now back on the two body equipment. Because my budget is limited the decision for the second D700 was combined with the decision to skip Nikon's next semipro generation - not a very hard decision considering the sophistication of the D700!

I see two main advantages for having two DSLR bodies:
I use different camera settings for different lens types. With two bodies that is much easier. Hey Nikon, it would be great if your firmware would allow an assignment between configurations and lenses!
A lens change takes time and in order to avoid specks on the sensor it is a vulnerable point for a DSLR, particulary in the wind. Two bodies reduce the number of lens changes significantly.
Back to the bag

For me, there is the need for a backpack with easy access to two DSLRs with attached lenses!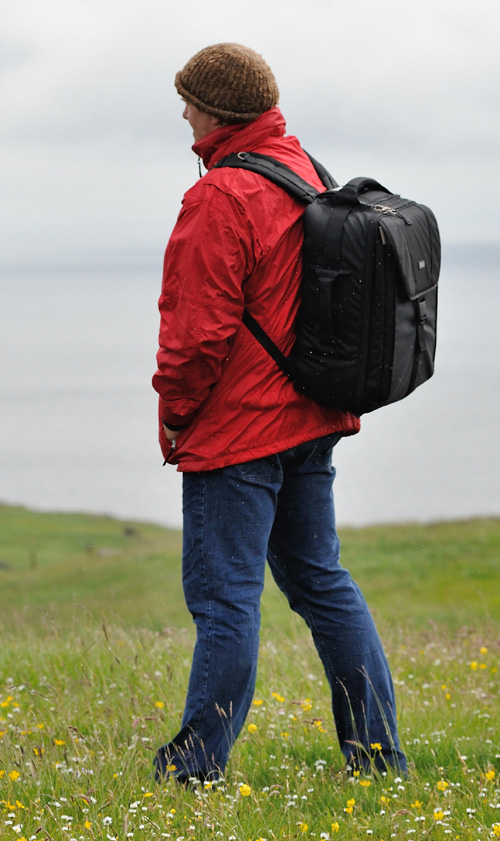 The ThinkTank Airport Acceleration V2.0 is not exactly a small and inconspicuous backpack! But at first sight it doesn't look like a photo backpack.
Despite its simple carrying system the Airport Acceleration is comfortable to carry, even above 10 kilograms and for longer walks.
A seperate waistbelt is included in delivery. But in my eyes it doesn't make much sense for backpacks with a simple carrying system.


Typical for this type of rucksack: a vulnerable point for penetrating rain is on the upside, where the shoulder straps are attached.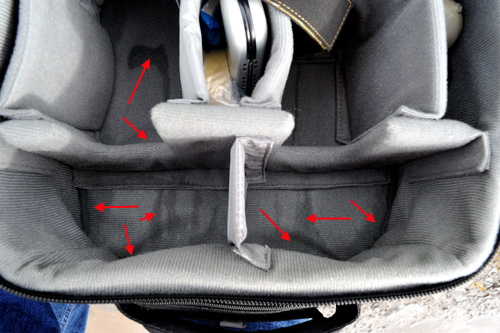 After walking in a 15 minute rain shower (including rain cover) there is a lot of wetness inside the Airport Acceleration, see red arrows. For instance, my old LowePro Mini Trekker is better here!


About ten years ago I bought a LowePro Mini Trekker AW and overall I have always been satisfied with it in terms of build quality. But it is not great for my needs about two bodies. A closer look to LowePro's current product line disappointed me. All their backpacks follow the concept of my Mini Trekker: one DSLR with an attached lens in the middle and space for lenses and other accessories on the sides. On some pictures they show a second DSLR without a lens in one of the accessory compartments. Or the second DSLR has an attached small lens and is also placed in the middle, but reversed and at the bottom section of the backpack, which is impracticable in my opinion. I made similar observations for Tamrac, Dakine, Kata and others.

The only exceptions I found came from ThinkTank. They offer a few backpacks which allow to store two DSLRs with attached lenses in parallel in the upper section. The Airport Acceleration V2.0 is the smallest one of these.

To cut a long story short: ThinkTanks's Airport Acceleration V2.0 is a great backpack in nearly all respects. But..



The weak point in one word

Rain.

If you plan to use this backpack in rainy areas, you should look for a poncho instead of a usual rainjacket. Or you take enough plastic bags along with you in order to protect your expensive gear if you must walk in the rain for a longer time!
Specifications:
External dimensions are: 40 cm W x 50cm H x 23cm D (with hidden carrying straps and empty front pocket).
The weight ist 2130 grams (without the waistbelt, without the separate laptop case and with the dividing shown above).
A seperate laptop case is included in delivery. It fits perfectly into the front pocket of the backpack.
The rain cover is seperate, but included in delivery.
Positives:
Very good carrying comfort, even above 10 kilograms.
Versatile and stable dividing system.
Very good build quality (impression after one year of intensive use).
Just suitable as hand luggage in terms of dimensions for most airlines.
There are a lot of accessories included in delivery.
Many well thought-out details.
Drawbacks:
The resistance to the penetration of rain is below average.