Under water with your Nikon

In October 2012 I spent two weeks on the island of Minorca, Spain. The waters around Minorca are crystal clear and it is a well-known spot for diving. I am not a diver but I planned to snorkel there. Of course, I wanted to photograph under water! But which type of equipment is the best for this purpose?

You can get hard underwater housings for DSLRs from many manufacturers. Usually they are made especially for a particular camera model, meaning: if you buy a new camera you have to buy a new housing, too. On the other hand, such a housing allows you to control most camera settings from the outside. Probably, such a housing is the best solution for a serious diver. But for a bit of snorkelling it is way too expensive. For example: a Hugyfot housing for my D700 costs around 2750 € in Germany.

An alternative is the use of a water-proof point-and-shoot camera like the Nikon Coolpix AW100, which currently costs around 230 €. But in terms of image quality and speed, the usage of a point-and-shoot is a more unpleasant compromise for a DSLR-shooter!

I chose a third option: a flexible underwater housing for my D700, the "ewa-marine U-B100". It is a relatively cheap alternative for underwater photography (I paid 225 €).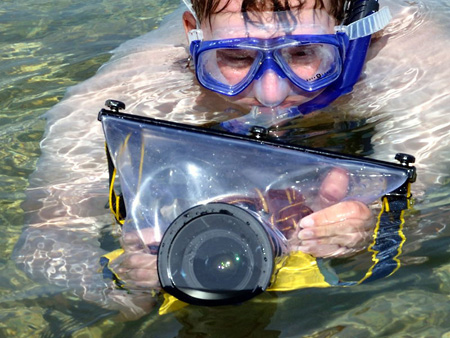 The ewa-marine U-B100 in use.


The ewa-marine U-B100

The U-B series is what you need for a Nikon DSLR. Only for the D3x00 you can use the smaller U-A series. If you want to use a lens with a 77mm (or 82mm) filter thread you need the U-B100. For more options, such as a housing for a DSLR with a mounted external flash, take a look at ewa-marine's website, see my 'links' section. On entering your camera model you will get a list of matching housings.

Please note: the housing is not designed for doing any camera settings. Setting the ISO, the metering mode, the exposure mode and so on should be done before you put the camera into the housing.


Inside the housing: Nikon D700 plus AF-S 17-35. On the right you can see the sleeve for the forefinger. That makes it easy to reach the shutter release button.


The U-B100 is usable down to a depth of 20 metres. I used mine only down to about three metres. It was absolutely water-proof.

Included in delivery there is a special ring with a 77mm filter thread (also available with an 82mm thread). This ring has an outer rubber ring and has to be pressed into its counterpart, the ring around the front glass of the housing. If the filter thread of your lens is made of plastic I would do this mounting (and also the dismounting) very carefully!


The ewa-marine adapter with the rubber ring on the outside, mounted on the AF-S 17-35mm. Mounting camera and lens into the housing is easy. But be careful with non-professional lenses: on mounting/dismounting there may occur strong shearforces at the filter thread.


The closing mechanism is easy to use and effective.


More than 20 years after the German reunification, the engraving "Made in W. Germany" on a newly-bought item is a real curiosity!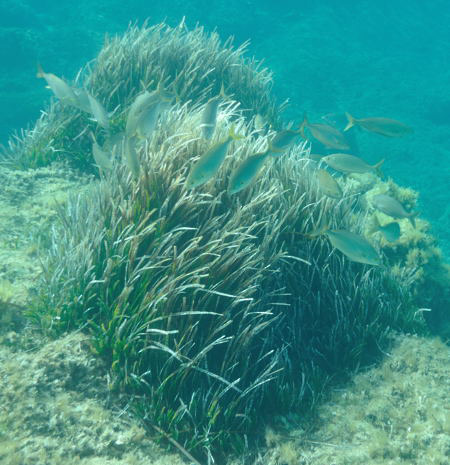 This image was captured in a depth of about 1.5 metres and from a distance of about 2 metres. Typical is the bluish-greenish cast.


After a tonal correction the image looks much better.


Selecting the lens and focal length

The lens you use within the U-B100 should have internal focussing (and zooming). Of course, the filter thread must not rotate. The AF-S 17-35 mm is such a lens. Other candidates are for example the AF-S Micro-Nikkors 60mm and 105mm, the AF-S 50mm lenses or the AF-S 85mm lenses. If the lens has a filter thread of less than 77mm you need a corresponding step-up ring.

Under water everything appears nearer and the focal length appears longer. The standard lens of the good old Calypso-Nikkor or Nikonos was a Nikkor 35mm f/2.8. Therefore I decided to make my first steps under water with my AF-S 17-35 mm. Most of the time I used it at 35mm. Zooming is possible but very difficult, if the camera is in the housing. Thus, it is a good idea to select the focal length before you put the camera into the housing.

The front glass of an ewa-marine housing is flat. Therefore you have the "aquarium effect": the shorter the focal length the poorer are the results (in the outer areas of the frame). Even at 35mm there are some problems in the corners. But all things are relative and I used the 17-35mm even at shorter focal lengths for a few times and I found the results overall usable. An expensive hard housing allows the using of a "dome port", which is better for wide angle underwater photography. For more information on this issue have a look at my 'links' section.

In the clear waters around Minorca I missed a longer lens. Well, I had my PC-E 85mm along with me, but that is a manual focus lens and therefore not really suitable for me under water. For the next time I plan to try my AF-S Micro-Nikkor 105 mm f/2.8 and maybe the AF-S 50mm f/1.8 or the AF-S 60mm f/2.8. I will inform you about my impressions and the results.
December 1, 2013: Lenses in an ewa-marine underwater housing



Flashing or not?

Ewa-marine also offers housings for a DSLR with a mounted external flash. For my D700 it is the U-BXP100 which costs around 340€ in Germany. It is usable down to a depth of 50 metres.

Within the U-B100 there is enough space to use a built-in flash. But I have not tried it yet.

For normal photography I rarely use a flash. In my opinion "fill-flashed" images often appear synthetic. I expect the same under water close to the water surface and therefore I chose the non-flash housing. But if you are really diving below a depth of five metres or so I guess a flash is necessary and the U-BXP100 is a good choice.

The longer the wavelength of light, the more water attenuates it. Therefore, if you dive a bit deeper everything appears bluish. The flash not only gives you light but also colours!

Even for a snorkeller, in a depth of only one or two metres there is a colour problem - blue and green dominate. Fortunately, such a colour cast can be easily removed by a tonal correction.



Using the finder or working with live view mode?

If you are snorkelling on a sunny day you won't see anything on your display, even if it is set to maximum brightness! Forget live view, use the viewfinder! Because of your diver eyeglasses you do not see the corners of the screen, but that is only a minor issue.

I guess things change if you dive deeper. As we know from photographing above the sea level, live view is very usable in a bit darker environments.



Advantage: digital

For more than 40 years ewa-marine offers their housings. I played with one in the early 80s and it was very similar to the one I own today.

Set your DSLR to CH and AF-C and shoot if there is anything of interest! On some days I shot a few hundred images during my snorkelling trips.

Shooting with an analogue body must have been a real pain! Getting out of the water every 36 frames, opening the housing, getting out the camera, swapping the roll, putting everything together again, closing and jumping back in the water!



Conclusion

I'm happy with my choice! The ewa-marine U-B100 is a great housing for snorkelling. The usage is easy and the build quality is fine. It is a cheap way to take photographs of a different world.




Update December 1, 2013:


Over the summer I have used my housing in both salt and fresh water a couple of times. In autumn I spent a week on Minorca again, mainly for snorkelling. Thus I've frequently used my ewa-marine U-B100 in the last 15 months. A closer look at the housing shows it:


The "bellows" between bag and front glass went out of shape (ewa-marine says you can bring it back to the original shape after having heated it with a hairdryer), the screw holes in the bag tend to get bigger and the screws show some corrosion caused by the salt water. But there is no serious problem.

The most important facts are: it is water-proof and the front glass is clear. Thus, I am still happy with it!

The housing is big enough to hold a D700 including the MD-D10 battery grip. For using the camera without the grip ewa-marine delivers a block of black foam rubber along with the U-B100 that you can put under the camera in order to fix it (you can see it on the left side on the image above). Alternatively, you can put important things like your credit card, car key, mobile phone and so on under the camera.

The AF-System works great under water. That is true for the four lenses I have tried so far: AF-S 17-35mm, AF-S 50mm f/1.8, AF-S Micro 60mm, AF-S Micro 105mm VR. I have put my experiences with these lenses into a separate article.


Sample images: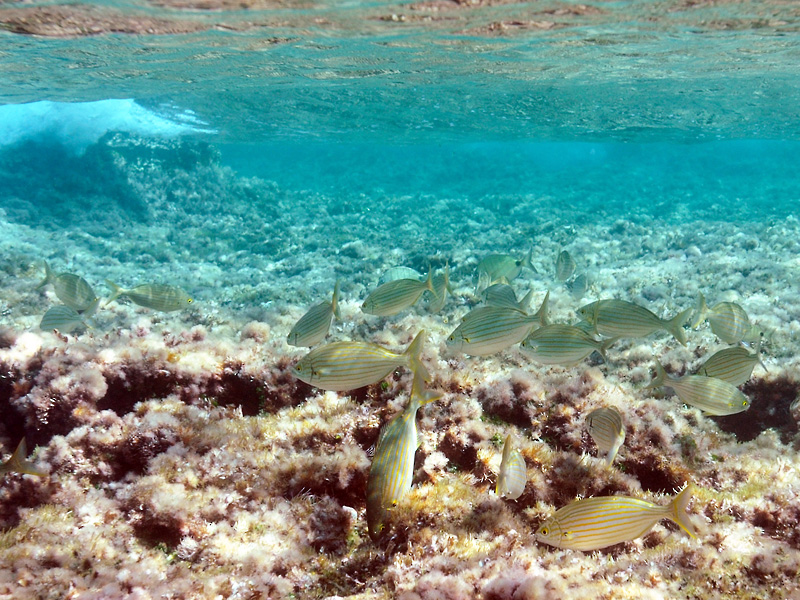 A school of Sarpa salpa in shallow waters. D700, AF-S 17-35mm @35mm, ISO 400, F8, 1/200 sec.




Don't touch! Snakelocks anemones at the rocky coast. D700, AF-S 17-35mm @24mm, ISO 400, F9, 1/320 sec.




Mediterranean rainbow wrasse. D700, AF-S 17-35mm @35mm, ISO 400, F8, 1/200 sec.




A flying gurnard. D700, AF-S 17-35mm @35mm, ISO 400, F8, 1/250 sec.




Don't forget to look above the water surface now and then! This Common Shag was absolutely not shy, but amazed about the funny animal swimming along ;) D700, AF-S 17-35mm @35mm, ISO 400, F8, 1/1250 sec. Please note: there were some water drops on the housing's front glass.