Nikon DR-3 - how to make the rotation of the right-angle viewfinder stiffer by yourself

January 1, 2012

An important tool for me is the right-angle viewfinder Nikon DR-3. Over the years, I used it with all my Nikon SLR and DSLR bodies. In 1988, I bought the DK-7 adapter ring to use the DR-3 in conjunction with the F-801. This adapter works fine with the F4 and the D700 too. For the cheaper bodies with the rectangular eyepiece I bought a couple of DK-22. Nikon doesn't recommend the use of this adapter for the DR-3. Indeed the DK-22 does not give a really stable connection and they broke down all the time. I helped myself by carefully gluing one of those together with some additional pieces of plastic on the eyepiece of my D200...

I'll never understand why Nikon use the rectangular eyepiece in semipro bodies like the D200 or D300. In the past, all the semipros (like Nikkormat, FM/FE/FA, F-801, F90, F100) had a stable screw mount eyepiece!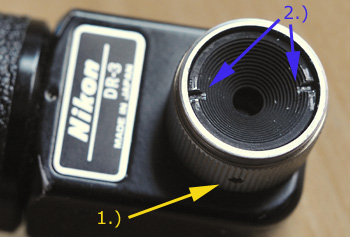 Over the years, the rotation of my DR-3 got too loose so that it permanently swings down under its own weight. I found a way to fix this problem:

1.)
There is a small hole in the silver ring. Turn the ring slowly and at the same time look through the hole to find a small screw. Screw it out completely!

2.)
Inside the mount of the DR-3 there is a black ring with two slits. The slits are for screwing the complete unit. But you need a special screwing tool for it. Alternatively you can make a tool by yourself. I made one from a flat washer with the help of pliers. With that tool I can screw the black ring unit with my fingers or, if necessary, more robust with pliers.

3.)
What you should try first is to screw it carefully clockwise to get it stiffer. If you don't get it stiff enough that way just screw it counter clockwise to get out the complete unit! Then remove the silver ring. Inside the silver ring you'll find a wavy spring washer. Just take your pliers to make it wavier and screw it all together again. Now you will get it as stiff as you love it by screwing clockwise! Now you can screw in the small screw back through the hole in the silver ring. I forgot this little screw and have not had any problems yet...