AF-S Nikkor 70-200mm f/2.8E FL VR review

June 18, 2017

I am still using an AF-Nikkor 80-200mm f/2.8D (2-ring version). It was introduced in 1995 - the optical design is from 1987. It is a solid performer, see my review. The 70-200mm f/2.8 predecessors were not really of interest for me: the first version is not great on FX, the VRII is a strong breather and therefore not suitable for nature photographers.

At the end of last year Nikon announced the third version of the 70-200mm f/2.8. According to the reports on the Web, this version is the best yet optically and it is not a heavy breather! Time for an update for me? Well, to begin with I rented one for a trip to Northern Greenland in May, where I expected an intensive use of medium long focal lengths. I was right: 70% of my shots in Greenland were captured with the 70-200mm.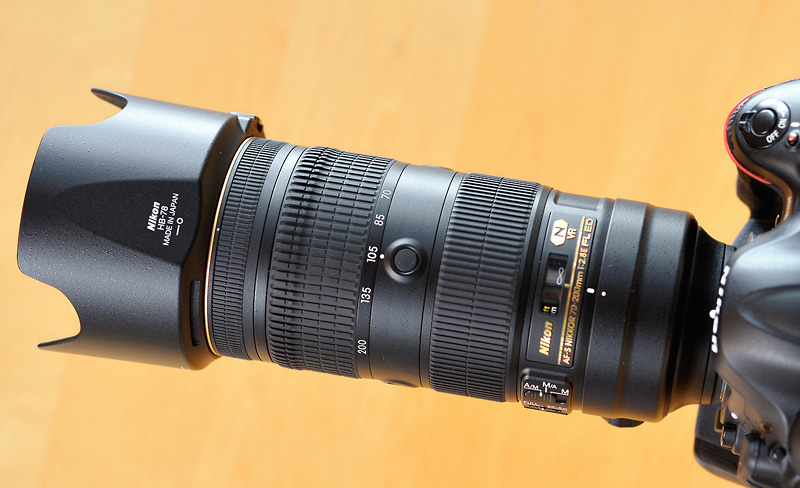 AF-S Nikkor 70-200mm f/2.8E FL VR, mounted on my D4.

First of all, I can confirm the 70-200mm delivers very good image quality in conjunction with the 16MP sensor of my D4. That is true for every focal length and aperture, with slight advantages at the long end. In contrast, my good old 80-200mm has its weakest point at the long end, especially wide open. At 135mm and below everything is fine, too.

Here comes a quick comparison of the two lenses at 200mm. On the left side a 100% crop of the image from the 80-200mm, on the right from the new 70-200mm. The distance between camera and subject was about 7m. The images were just raw converted with Nikon Capture NX2.

F2.8: the 80-200mm shows spherical abberations, whereas the 70-200mm is contrasty even wide open.


F4: the 70-200 is still slightly better.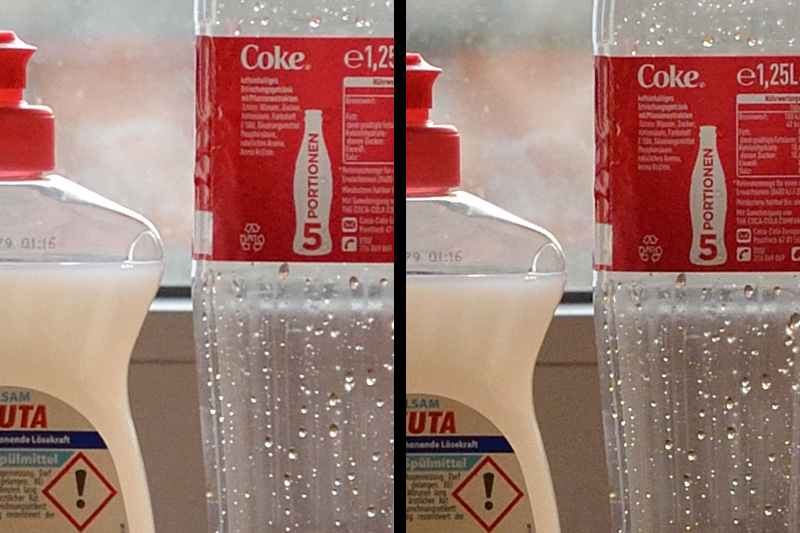 F5.6: not much difference, still very slight advantages for the 70-200mm.


Size comparison: to the left my old AF 80-200mm f2.8D, to the right the new AF-S 70-200mm f/2.8E FL VR. The new lens weighs 175g more than the old one.


In the images above there are two minor issues that attract attention: firstly, 200mm is not the same than 200mm! The 200mm of the old lens are about 2% longer at infinity. Moreover, the new lens is a slight breather. Secondly, the new lens seems to produce a slightly brownish cast.

Optically, there is no doubt: the 70-200mm performs a bit better than my old 80-200mm, most notably at the long end!

The 70-200mm is usable in conjunction with Nikon's current teleconverters. Some people report of a good performance with the TC-20EIII. It would be a dream for me to have a 400mm f/5.6 AF lens just by adding the small TC to my bag! Therefore I tried this combination intensively, especially at 400mm. But that dream burst like a bubble. In some situations the results could be usable, but the image quality is clearly worse than with my approved combination AF-S 300mm f/4D plus TC-14EII:


AF-S 300mm f/4D plus TC14EII vs. AF-S 70-200mm f/2.8E plus TC-20EIII at 400mm.
Newspaper, 7m away. 100% crops, both images were captured at F8 and focussed in live view mode.


In terms of ergonomics Nikon's new 70-200mm did not convince me. Nikon interchanged zoom ring and focus ring, which is a bad idea in my eyes.


Mounted on my D4 the centre of gravitation is at the tripod foot. Focussing is ok (the optimal position for the focus ring would b a bit more towards the front of the lens), but zooming is difficult! With smaller bodies the big tripod foot complicates handling.


Without the tripod foot zooming is much easier. But focussing is nearly impossible - the weight presses the focus ring into my left hand. Moreover there is the danger of unintentionally moving the focus ring.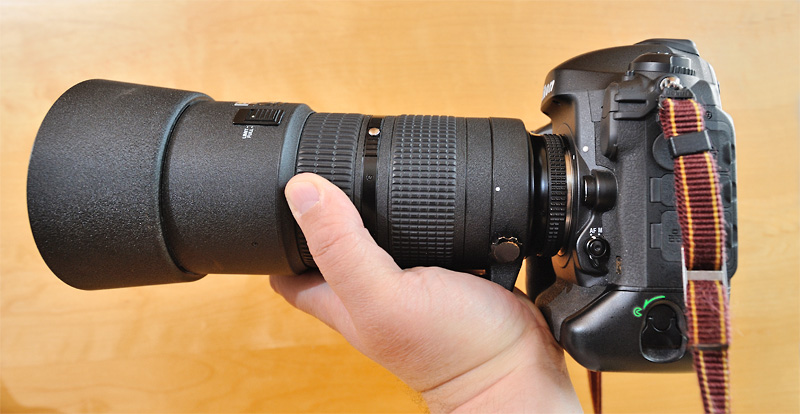 The old 80-200mm is well made ergonomically: In conjunction with my D4 the centre of gravitation is at the tripod foot, that lies in my hand securely. The focus ring is optimally positioned. Zooming is ok.


The renting included the oportunity to buy the lens. But I did not.




Specifications:
22 elements in 18 groups, including 6 ED elements and a fluorite element.
Closest focus is a bit less than 1.1m (magnification 1:4.2 @200mm).
Weight including tripod foot, back cap and hood is 1525g.
Filter size is 77mm.
Length including hood from the camera's lens mount at infinity is about 264mm (205mm without hood).
The length doesn't change during zooming or focussing.
Diameter with hood is about 105mm (89mm without hood).
Hood: Nikon HB-78, bayonet mount, included in delivery.
Four AF-on/AF-lock buttons.
Integrated vibration reduction (VR).
AF by Silent Wave Motor.
Electric diaphragm.
Positives:
Pro-built quality.
Uniform and very good optical performance.
Very good close-up capabilities.
Effective VR.
Compatible with Nikon's TC-E teleconverters.
The AF-lock buttons.
Drawbacks:
Sample images:
The mouth of the Ilulissat Icefjord - a Unesco World Heritage Site - in northern Greenland. Shot in May 2017 at 200mm and F11.


Iceberg with finger. Ilulissat Icefjord, May 2017. Captured at 120mm and F8.


Iceberg detail. Ilulissat Icefjord, May 2017. Captured at 130mm and F8.


A bowhead whale dives down. Captured in May 2017 in Disko Bay, northern Greenland. The 70-210mm was set to 170mm and F5.6.


Oqaatsut, a small settlement on Disko Bay. Shot in May 2017 at 70mm and F11.


Musk ox in Greenland's tundra in May 2017. Captured with 200mm and F5.6.